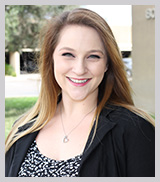 Jourdan Klingbeil joined the Healthy Futures team in 2015 and serves as Clinical Office Manager.
She has her Bachelors in Science degree in Psychology from Arizona State University and a passion to go on and get her Masters in Counseling degree.
She hopes to use this degree to help others on their journey to eating disorder recovery.
In her downtime, Jourdan enjoys seeing movies, finding new art projects to do, and spending time with her family and dog (Charlie the tripod). Though she is an Arizona native, Jourdan still loves discovering all the hidden adventures that Northern Arizona has to offer such as hiking the forests and swimming in the many creeks and lakes.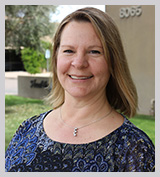 Kimberly Bartman, joined the Healthy Futures team, February 2016, as a part-time medical records and administrative assistant.
She is excited to have this opportunity to work along side this caring professional team, their clients, and families.
Kimberly and her husband, Rick, have one elementary school aged daughter. She and her family enjoy hiking, camping, traveling, and spending time with family and friends. They also have a cute little fur family member, named Sunshine "Sunny."