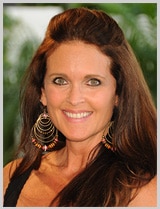 Kelley Aungst, NSCA-CPT, joined the Healthy Futures team as an exercise consultant in 2011.
After many years of her own emotional eating and yo-yo dieting, she is dedicated to helping others find joy and a sense of wellbeing through movement. Kelley has a passion for exercise and loves helping others feel and experience the same benefits that she has.
Kelley earned and
received her diploma in Personal Training in 2009. She then qualified for her professional certification through the National Strength and Conditioning Association as a Certified Personal Trainer.
She has lectured for a local internal medicine practice on the science behind exercise and memory.
In addition to her continued work with Healthy Futures, she is the owner of Bodywise by Kelley, and trains individuals in her private North Phoenix studio. Kelley also travels to clients that are elderly, or have special needs and are unable to exercise at her location.
Kelley's mission is to help others find a healthy balance of exercise and improve their quality of life.
Contact Kelley at (602) 620-2233 or Kelley@bodywisebykelley.com.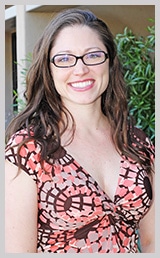 Jessica McCall, LAC, MA, serves as the Clinical Operations Manager for Healthy Futures. She is an Arizona state Licensed Associate Counselor and been in practice with eating disorder treatment since 2010. She handles initial intake assessments, provides individual and group therapy, and assists in the daily operations of Healthy Futures.
Jessica has experience in Dialectical Behavior Therapy skills training, Multimodal/CBT theories, as well as various styles of experiential group work.
With a background in team building activities, she engages groups with fun and creative techniques to enhance the therapeutic process. Her experience as a dancer and ballet instructor, in addition to several non-traditional sports and activities gives her a wide range of skills from which to draw and implement into experiential therapies for individuals and groups.
Jessica completed her two master's degrees from Argosy University, Phoenix in search of her passion. Upon completion of a Sport and Exercise Psychology Masters and a Clinical Mental Health Counseling Masters, Jessica continues to further her skills toward completion of her LPC. Jessica has also recently completed two years of Somatic Experiencing training, working toward her SEP.
Jessica has experience in treating eating disorders, ARFID, and adolescent emotional eating in addition to general mental health. Jessica's caring and comforting nature embodies her therapeutic approach. Jessica spends her free time with her family, getting outside when the weather is nice, and dancing through life!