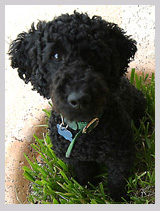 Gus is Healthy Futures' therapy animal, a 100 percent miniature poodle.
Although he holds no university degree, Gus excels in being cute, soft and – most important to the therapy process – a wonderful listener.
At times, Gus joins group therapy sessions at Healthy Futures and is always supportive.
Even those times when he's simply curled up in a corner taking a nap, he's a comfort to have around.

In loving memory
Max  was the faithful companion of Healthy Futures team member Jessica McCall. Sadly for us, Max made his way to his final resting place in October, 2013.
Max was a compassionate listener and always was willing to be petted for therapeutic purposes, or just because he was soft and lovable.
We'll miss you, Max. You were a good boy!