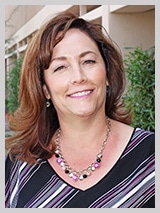 Kim Guenther, RD, graduated from Arizona State University with a Bachelor's degree in Human Nutrition. She went on to complete her dietetic internship with Maricopa County.
After experiencing dietetics in multiple settings, Kim found her heart's desire in working with those who struggle with eating disorders.
Beginning in 1996, Kim started working at a residential treatment center providing nutrition counseling and ultimately moved into management where she was able to provide supervision to other professionals along with developing effective eating disorder programs and groups.
She continues to find herself very enthusiastic to learn each client's unique story. Kim enjoys teaching nutrition as she feels this knowledge is power against the eating disorder and leads to a life free of all the rules her clients once were slaves to.
Being able to come alongside clients on this journey by meeting each client where they are at, cultivates an environment and relationship in which each client feels safe to begin owning their life and recovery – this is Kim's ultimate goal.
She enjoys spending time with her family, playing softball, horseback riding and  gardening. Kim has a fondness for the outdoors especially hiking in northeastern Arizona.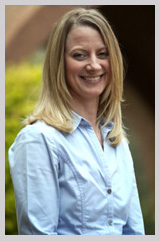 Laurie Geraghty, DTR, LCSW, is a nutritionist for Healthy Futures. She is a Registered Diet Technician with 12 years of experience and also a Licensed Master Level Social Worker. Her experience in the nutrition field consists of working both in behavioral health and medical hospitals with eating disorders, cancer, heart disease and respiratory illnesses.
She has experience making meal plans and teaching nutrition to patients as well as their families. Laurie also has experience working at an inpatient behavioral health facility where she has conducted groups on self-esteem, anger management, coping strategies and depression.
Laurie currently utilizes her Master's in Social Work working at Banner Mesa Medical Center by helping patients and families with discharge planning, support and various types of resources.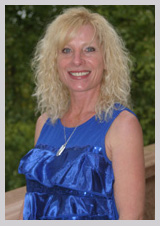 Dena Wombolt, BS, is a nutritionist for Healthy Futures. She earned her bachelor's degree in dietetics from Arizona State University. Dena has worked more than 12 years for the Food and Nutrition Department for Mesa Public Schools. She has more than 10 years experience in inpatient and outpatient eating disorder clinics. She has experience with teaching nutrition and making various meal plans for clients as well as their families.
Dena has a passion for helping those struggling with eating disorders of all ages. She enjoys teaching subjects such as fad diets, vitamins and mineral supplements, exercise, carbohydrates, fats, protein and metabolism. Dena believes that food can be a healthy part of anyone's life and one of her goals is to motivate and support clients in various ways to increase a healthy lifestyle.
Currently, Dena is enrolled at the Institute For Integrative Nutrition in New York City to become a Certified Holistic Health Coach. This is an exciting time for Dena, as she plans to blend her scientific approach with a holistic approach to better serve her clients.
If you need a unique nutrition professional, Dena is it.  She is bubbly and has a way of making our nutritional needs common sense.